Amber is an ancient stone that has always been highly regarded. Around the world, many works of art have been made with elements of this stone, including
Orthodox icons
. In ancient Greece, amber was used in temples for smoking, since in addition to its beauty, it has a pleasant smell when heated. Not only jewelry was made from amber, but also whole works of art. It is known that in the 15th century European craftsmen created whole biblical subjects from amber.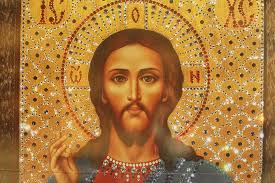 Icon painters also did not disregard this unique mineral. Because of its color, amber is associated with gold, which has always been used in icon painting. In addition, it glows softly and creates warmth and mystery. Even the fact that this stone is 35 million years old is fascinating! Since the 90s of the last century, the direction of icon painting with amber decoration began to actively develop. Many temples made an order for amber icons from masters of outstanding schools. The Orthodox Church praised these works.
Icons are a type of bright and joyful, we turn through them to God. And amber, like no other stone, suits the faces of saints, because it is also called a sun stone. Its peculiarity is that it gives volume and a special glow, causes warm emotions and spiritual calm.
An amber icon is both an image and a design element. Of course, the image of the saints is initial, but the beauty of the images helps a person to get away from his experiences, distracts from worldly life and attracts him to heaven. The refined face of the saints in combination with a luminous stone sets up for prayer and gives peace. Amber is considered a stone of well-being, harmony and cosiness in the house. Therefore, they are often decorated with icons of the Mother of God and other family icons.
How our icons are made from amber
Amber has many shades and is easy to process, which makes it possible to create beautiful artworks with rich finishes, which are our icons. Light yellow, honey and brown stones create a beautiful color scheme. Our masters use only natural Ukrainian amber: beaten amber chips and solid stones. They manually decorate their work, creating a unique pattern, and put their soul into each order. All our icons are made according to the canons of icon painting, but at the same time it is an individual art.
Ready Amber Icons
Custom-made amber icons
We can also make a personalized amber icon with your patron saint or fulfill an exclusive order. Such a gift will definitely cause delight and become an unusually beautiful decoration of the house.